Data Centre Security
The threats to Data Centres are multiple and whilst we are all familiar with the terms E Crime, Cyber Crime and now even Cyber Terrorism. Cyber Security is only a part of the whole security package that Data Centres need to employ. Physical security is required to control and restrict access at the Data Centre perimeter and building envelope, with further levels of security within.
Architectural Armour have bespoke manufactured and installed a range of security products for data centres in the UK, USA and Europe. Products include Bullet Resistant Doors, Blast Resistant Doors, Bullet Resistant Windows, Bullet Wall Panels, Reception Counters and Screens.
Project(s) USA
Whilst US manufacturers have a good understanding, and need of bulletproof / resistant doors and windows, our International client required additional blast resistance for their new Data Centre which they were not able to satisfy "in country". Architectural Armour were tasked with providing the specified security doors whilst complying with stringent US fire standards. We commissioned a fire test to US Standard UL10C at the Cambridge Fire Institute where our door successfully held for the 3 hour test followed by the hose stream test . See video on Fire resistant Door page
The doors and windows were manufactured in the UK, export wrapped and crated then shipped to the US to be installed by local term contractors, with Architectural Armour visiting briefly to explain the workings of the complicated 3 and 4 point locking and final commissioning.
The client liked the doors and we were soon repeating the process, this time upgrading an existing Data Centre facility in another state. Further commissions for the same client led to us manufacturing and overseeing installations at regional offices in North Africa.
Project(s) Slough
Ok, Slough is not quite as glamorous as working in New York but it is home to multiple Data Centres, many of which Architectural Armour have manufactured and installed high security products for.
Secure Reception Counters
Design
Secure counters and screens not only offer function they are usually located in the reception area which is where first impressions are formed by the customer. Nobody wants to see a counter and screen that looks like it belongs in a 1960's bank, in an ultra modern hi tech setting. Working with the clients designer's Architectural Armour have reproduced their idea's into modern attractive high security counters and screens.
Functionality
Entry to the Data Centre will be managed with strict procedures to monitor and control visitor access both into and within the data centre. Whilst meeting and greeting the visitors, security operatives need to monitor the feeds from the surveillance cameras, control pedestrian and vehicle perimeter access and respond to any threat. Architectural Armour's flexible approach and bespoke design's have successfully provided working solutions for Data Centre's security needs.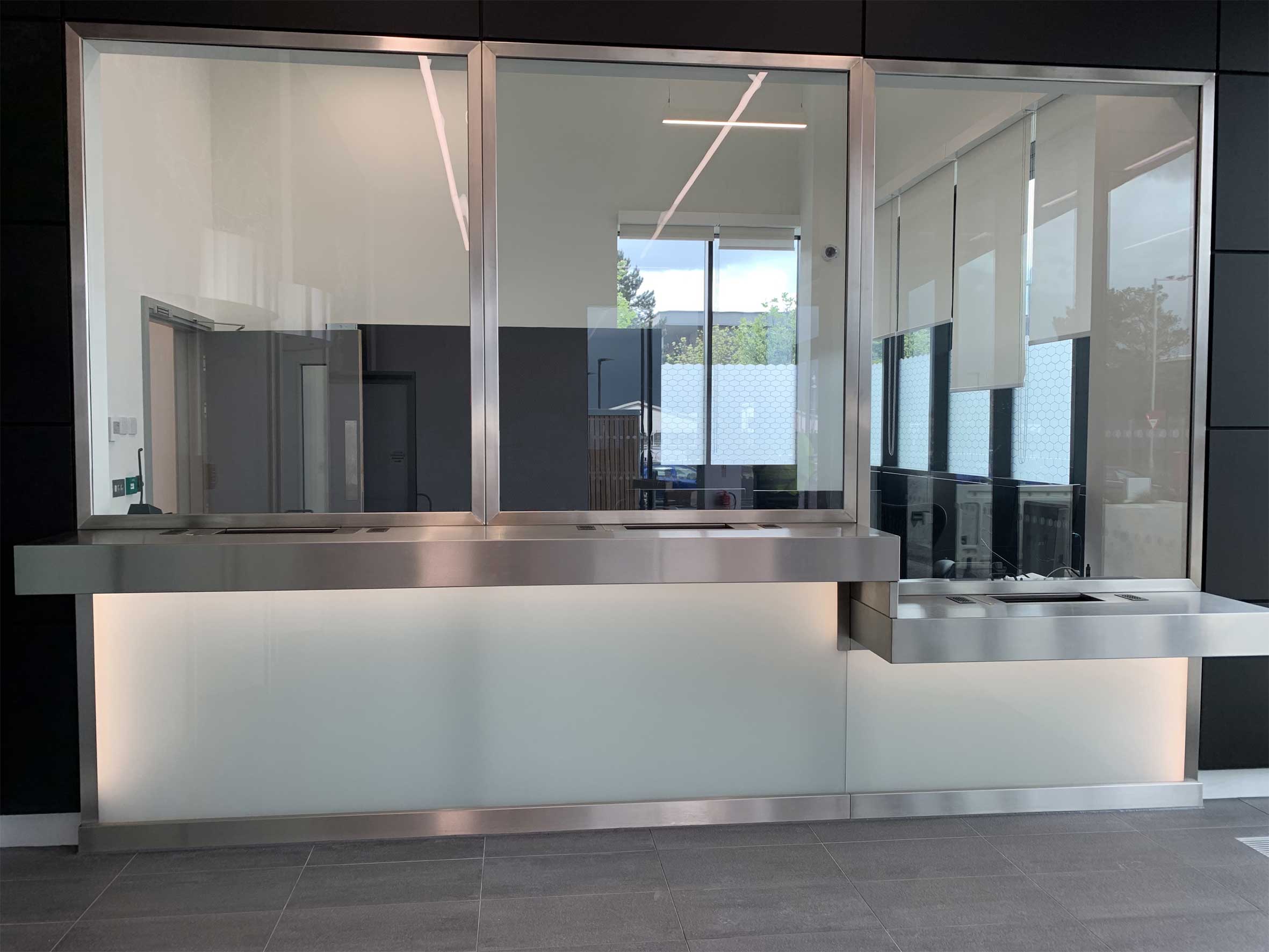 Typical Features of Data Centre Security Reception Counters and Screens
Security counter
Bespoke manufactured brushed stainless steel covered counter accommodating recessed flush Sitec transfer tray and Contacta intercom system.
Window Units / System
Stainless steel finish, glazed security screen to EN 1522/3 BR Level Standard
Ballistic Glazing
Glazed with ballistic- bullet resistant glass to EN 1063 BR Level Standard
Speech Transfer System
Contacta Speech transfer system:Product reference: K003L, flush mounted system with twin channel audio amplifier, power supply unit integrated induction loop.
Document TransferTray
Sitec GMBH Document transfer tray: Product reference: P7032/F60/VA; Finish: RAL 9005, jet black; Operation: Manual